Expert Carpet Repair Services in New Farm: Are you struggling with carpet damages such as pet damage, holes, burns, or loose carpets? Invisible Carpet Repair New Farm is your one-stop shop for professional carpet repair services in New Farm City, QLD, Australia. Our team of skilled specialists provides a variety of services to meet your specific needs.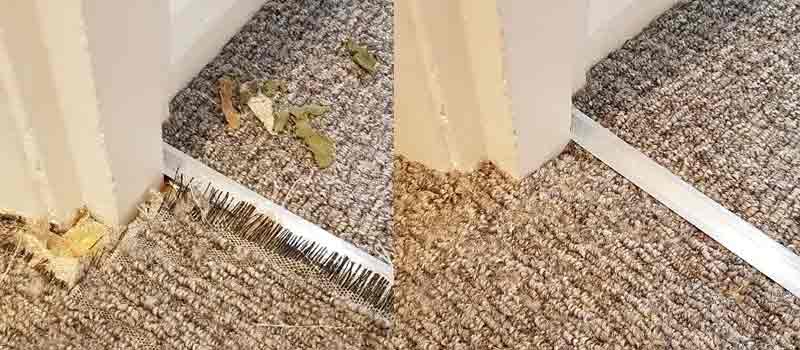 Do I Need a Spare Piece of the Same Carpet for Repair?
At Invisible Carpet Repair New Farm, we don't carry spare pieces of carpet for repairs or patching. However, we can prepare a carpet piece from your carpet corners or any extra carpet you may have. We believe in providing invisible carpet repair, and using our pieces may not match the size, color, design, or pattern of your carpet. Please note that we cannot proceed with the work if the required carpet piece for repair and patching is not available to customers.
Why Are Carpet Repair Services Necessary?
If you own an expensive or antique carpet, it's essential to take good care of it. Carpet repair is necessary to maintain its durability and appearance. Our trained and certified specialists can handle carpet damage precisely and efficiently compared to a regular carpet owner. We can deal with various damages such as holes, tears, stretching, and pet damage. By hiring a professional, you can rest assured that your damaged carpet will be repaired correctly, leaving you with satisfying results.
Carpet Repair Services We Offer in New Farm and Its Suburbs:
Invisible Carpet Repair New Farm offers a wide range of carpet repair services to cater to different needs. Our services include carpet burn restoration, carpet restretching, carpet patching, carpet seam repairs, carpet dyeing, carpet hole fixing, carpet joints and splits, and pet damage carpet repairs. Below are some of the specific services we provide:
Carpet Patch Repair New Farm Service: Our team of skilled professionals can restore the look of your carpets with our carpet patch repair service. We trim the damaged area meticulously or obtain a matching patch from the market, providing seamless and invisible results.
Carpet Seams Repair New Farm: We specialize in repairing carpet seams and provide the best possible service without breaking the bank.
Carpet Hole Repair in New Farm: Our carpet repair specialists can restore your carpets to their former glory with our top-quality carpet hole repair service. You won't even be able to tell where the damage was before.
Repair Carpet Fire & Smoke Spots: Fire and smoke spots on carpets can be a challenge to remove, but our specialists are here to help. We guarantee to restore your carpets to their original condition.
Carpet Stretching and Tightening in New Farm: Our team of professionals is equipped with the latest techniques to get your carpets looking as good as new with our carpet stretching and tightening service. We take pride in delivering flawless results.
Carpet Pet Damage Repair Services in New Farm: Pets are part of the family, but they can cause damage to your carpets. Our team of professionals can repair pet damage to your carpets and make them look brand new again.
Carpet Pet Hair Removal Services in New Farm: Our carpet pet hair removal service can help you eliminate this problem quickly and efficiently, leaving your carpets hygienic and clean.
Fix Carpet Burns in New Farm: Our carpet repair specialists inspect the burnt area and arrange for a patch to provide the best possible results. Whether intentional or accidental, we can help you fix carpet burns in New Farm.
Is It Time to Call Professional Carpet Repair Services?
Carpeted floors are a popular choice in many homes and offices, but they require proper maintenance to keep them in good condition. Unfortunately, most people don't realize their carpets need attention until it's too late. If you're unsure whether your carpets require professional repair, keep an eye out for these signs:
Improper installation
Worn out carpets
Cuts and opened sides
Burns from iron, cigarettes, or candles
Damage caused by pets chewing or scratching
Seam splits
Wrinkles in carpets
Holes in carpet
Permanent dents and stains
If you notice any of these signs, it's time to call in the professionals. Fortunately, we're here to help. Our team of experts provides reliable carpet repair services throughout New Farm and its suburbs. We cover all corners of the city, from north to south and east to west. Whether you need a quick fix or a complete restoration, we're the best in the business.
What's more, we're available 24/7, so you can book our services anytime. If you're searching for "carpet repair near me," look no further than our team. We're always ready to help you get your carpets back to their former glory. So, don't wait until it's too late – contact us today to schedule an appointment or discuss your carpet repair needs in New Farm.
We Also Provide the Same Day Services in Nearby Suburbs
About New Farm
New Farm is a leafy residential neighbourhood known for its nameake park, which features riverside BBQ areas, grassy fields, and jungle gyms. The Riverwalk connects to the city centre via pedestrian and bike paths along the waterfront. Brisbane Powerhouse, a graffitied red-brick industrial building, hosts contemporary plays and concerts, while the area's relaxed dining scene includes cheery brunch cafes and kid-friendly eateries.
Postcode: 4005
Latitude: -27.4665921
Longitude: 153.0380863