Top-Quality Carpet Repair Services in Your Area – Call Invisible Carpet Repair Today!
If you are looking for reliable and professional carpet repair services in your area, look no further than Invisible Carpet Repair. Our team of experts offers a wide range of services to customers in Banksia Beach City, QLD, Australia. From pet damage to holes and stains, we have a solution to fit your unique needs.
Our Banksia Beach Carpet Repair team offers a variety of services, including Carpet Restretching repairs Banksia Beach, carpet restoration Banksia Beach, Carpet Restoration Service, Carpet Seam Repair, Carpet Patch Repair, Carpet Hole Repair and rips, carpet stain repair/carpet patching /fixing carpet mould, fixing carpet joins and splits, repairing carpet burns and fuzzing, carpet tightening, water damaged carpet repair Banksia Beach, carpet stretching or carpet restretching, carpet torn repair Banksia Beach, pet damage carpet repairs, and much more. All of our services are performed by experienced and qualified professionals who are dedicated to providing the best possible service to customers in Banksia Beach.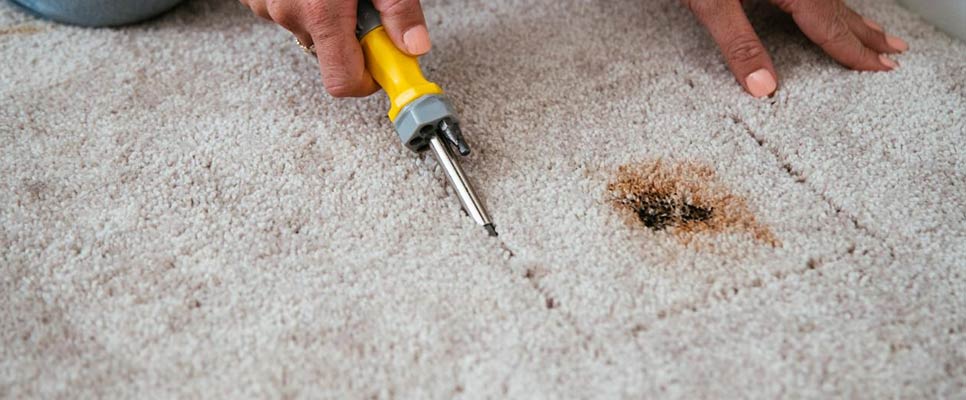 Why Choose Professional Carpet Repair Services?
Caring for your carpets is essential to maintaining their quality and appearance. However, trying to repair them on your own can be a daunting task. Here are a few reasons why professional carpet repair services are necessary:
Improve Carpet Durability: Carpet repair services can help prolong the life of your carpets by addressing issues that can cause further damage.
Skilled Professionals: Professional carpet repair specialists have the skills and expertise needed to handle any type of damage with precision and care.
Quick Fixes: Certified specialists know quick and efficient ways to handle any type of damage to your carpets.
Comprehensive Services: Professional carpet repair services offer a wide range of solutions that can cater to your specific needs.
Professional Assistance: Professional assistance with stretching and relaying your carpets can ensure that you have the best outcome.
By choosing a professional carpet repair service like Invisible Carpet Repair, you can be assured that your carpets will receive the best possible care. Contact us today to learn more about our services and to schedule your appointment.
Top-Notch Carpet Repair Services in Banksia Beach: Our Specializations
Are you looking for professional carpet repair services in Banksia Beach? Look no further than our team of experts who offer a wide range of top-notch services to customers in the area. We specialize in various carpet repair services, including carpet patch repair, carpet seam repair, carpet hole repair, repair of fire and smoke spots, carpet stretching and tightening, pet damage repair services, carpet pet hair removal services, fixing carpet burns, and addressing carpet installation issues.
Carpet Patch Repair Banksia Beach Service
Patching is a challenging task that requires precision and skill. Our team of professionals can help you spot tears on your carpet and provide seamless patching that will leave your carpet looking like new. We start by trimming the corner of your carpet or procuring a patch from the market and then carefully mending it on the damaged part.
Carpet Seams Repair Banksia Beach
Our team specializes in repairing carpet seam damages quickly and effectively without breaking the bank. We have the best techniques to repair carpet seams without taking much time.
Carpet Hole Repair in Banksia Beach
Over time, your carpet might develop holes due to constant use. Our team of professionals can help you restore your carpet to its former glory with our seamless hole repair services. We use our expertise to repair your carpet holes, providing an unnoticeable outcome.
Repair Carpet Fire & Smoke Spots
If you're a smoker or have a fireplace, you may observe smoke or fire spots on your carpet. Our team of experts is always available to help you restore your carpet's look by repairing the damage. We work around your schedule and provide top-notch services to ensure your satisfaction.
Carpet Stretching And Tightening in Banksia Beach
Carpet stretching and tightening can be a challenge, but our team of professionals is equipped with the right techniques to address the issue. We can help you stretch your carpet in accordance and shape it into a perfect one from all sides.
Carpet Pet Damage Repair Services in Banksia Beach
Pets are lovely but can cause damage to your carpets. Our team of experts specializes in pet damage repair services to help you keep your carpet in good condition. We can address any damage caused by your pets and restore your carpet's look.
Carpet Pet Hair Removal Services in Banksia Beach
If you have a pet that sheds a lot of hair, you may need to remove it to prevent any issues with carpets. Our team of professionals provides pristine and hygienic Carpet Pet Hair Removal Services to help you maintain a clean and healthy environment.
Fix Carpet Burns in Banksia Beach
Burns can cause damage to your carpet and leave unsightly marks. Our team of professionals inspects the burnt area and tries to arrange for the patch accordingly. We can fix the patch and glue it as per the requirement to provide a seamless finish.
Carpet Installation Issues
Heavy traffic and constant use can damage your carpet, affecting its appearance. Our team of professionals can help you resolve carpet installation issues and restore your carpet to its former glory. We are committed to providing you with top-notch services that meet your needs and exceed your expectations.
Contact Us 24/7 For the Same Day Expert Service
Our Services Cover All Areas of Banksia Beach and Beyond: Contact Us Anytime for Carpet Repairs When it comes to carpet repair and restoration services in Banksia Beach and its suburbs, we are your local team that can reach every corner. No matter where you are located – north, south, east, or west – we are the experts you can rely on. Our team is available 24/7 and just a quick search away for "carpet repair near me." Contact us anytime to discuss your Carpet Repair Banksia Beach queries or schedule a service with us.
About Banksia Beach
Banksia Beach is a town and suburb on Bribie Island in Queensland's Moreton Bay Region. Banksia Beach had a population of 5,995 people according to the 2016 census.
Postcode: 4507
Latitude: -27.0393555
Longitude: 153.1440591